Every year the Lions book a carriage on the North Yorkshire Moors railway to take children and their parents and carers from Ryedale Special Families on a day out. Sunday 6th October was the date in the calendar – we didn't have the best weather but all on board enjoyed their return trip to Whitby from Pickering.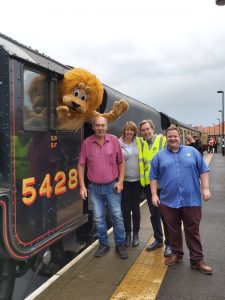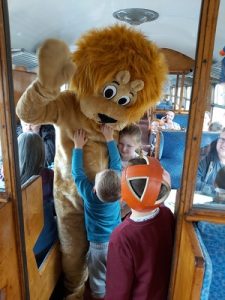 Leo, our resident Lion mascot joined us, to the delight of many children who enjoyed high-fiving, hugging, and even a little friendly tail-pulling!
A picnic lunch served by our volunteers was followed by a sing a long with Ken, who once again played guitar and led us in some well know songs including "The Runaway Train".
On the return, the children (and adults) enjoyed an ice cream, plus flag making and colouring. This day out isn't just enjoyable for the families, those who help also find it very rewarding.