Santa's on his way!
Check his flight plan to see when he'll be landing with you.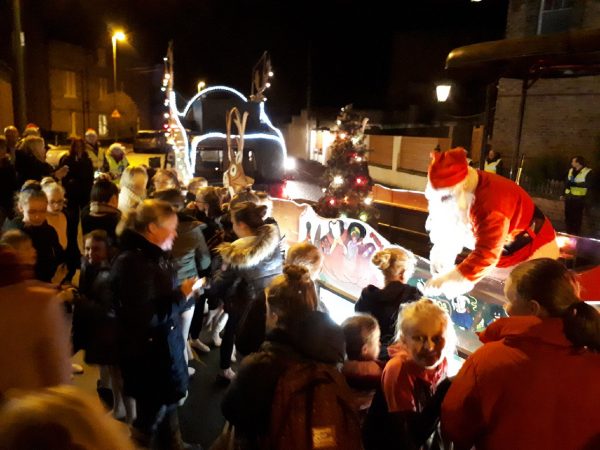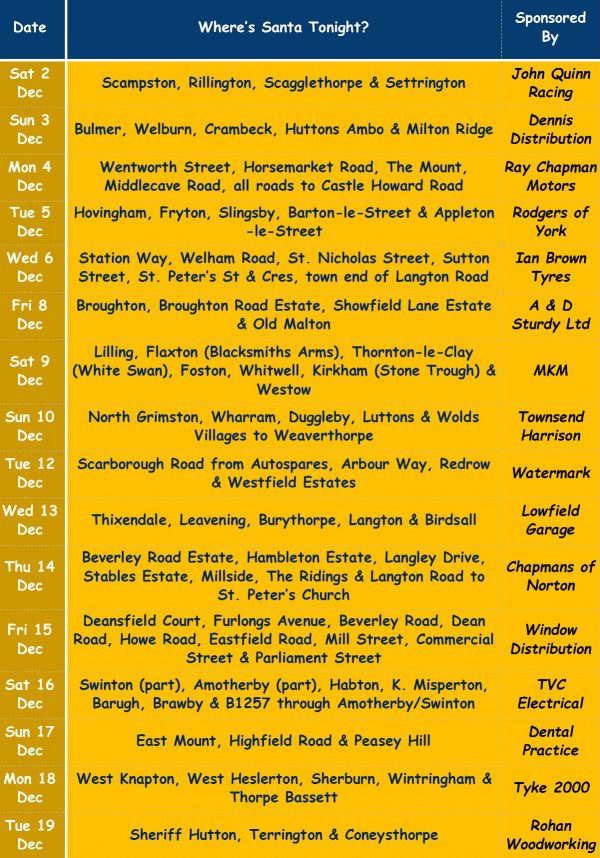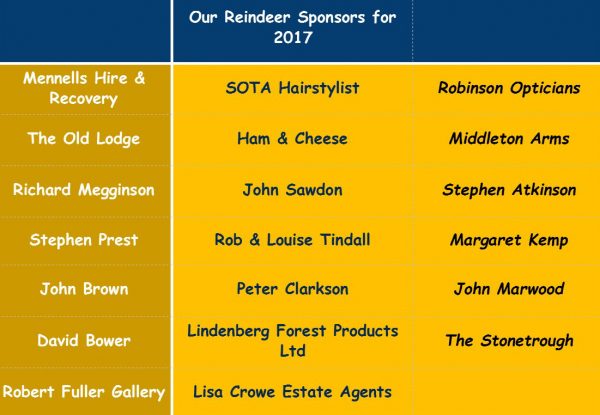 We are the Lions!

As a group of almost 40 Lions, we have fun supporting our local community and organising a range of events to raise money for good causes, locally, nationally and internationally
We are proud to have worked across Malton, Norton and District since 1963. Lions meet the needs of local communities around the world. Our 1.4 million members in 46,000 clubs who perform community service in 210 countries and geographic areas are different in many ways, but share a core belief
COMMUNITY IS WHAT WE MAKE IT
Our 55th President – Lion Mike Lynch – is well known within Malton, Norton and District having retired from General Practice in 2013 after almost 30 years in the town.
An "adopted Yorkshireman", Mike moved to Malton in 1985 following 18 months working in Bermuda. Originally from the Midlands, he trained in Leeds working at hospitals in the surrounding area, including Bradford where he met his wife, Lynda, a nurse. Mike is a long-term supporter of the Malton Hospital campaign to retain the minor injuries unit and develop other specialisms.
Since joining Lions in 2014 Mike has become involved in many Club events including being a regular "elf" collecting for Santa's Sleigh and a key member of the team that organises the Lions Golf Day each year at Sandburn.
Mike's programme for the year that ends in June 2018 will guarantee the Lions remain as busy as ever. Amongst new initiatives he announced is the "Malton and Norton Lions Community Fund". This was first mooted a couple of years ago by Past President Lion Mark Harrison and will see Lions actively going out to seek individuals and organisations requiring financial assistance to improve lives in our community. It is planned to announce the scheme in the local press over the coming weeks.
And in the year Lions as a worldwide organisation celebrates it's 100th anniversary, President Mike announced a large all day event at the Milton Rooms in October at which we intend to involve all age groups in the community in a combined 100th anniversary of Lions worldwide and 54th birthday party for Malton, Norton and District Lions Club.
---
Angela Kirkham-Raine awarded Melvin Jones Fellowship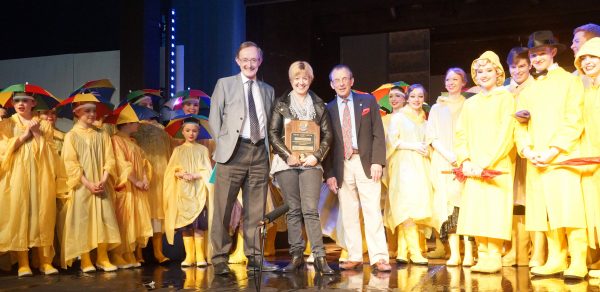 In January 2016 Angela Kirkham-Raine received her Melvin Jones Fellowship (named after the Chicago businessman who founded Lions in 1917) on stage at the end of a Ryedale Youth Theatre matinee performance of "Singing in the Rain".
 Over the 40 years that Angela has been teaching she has trained thousands of students to professional level, many of whom are now performing in musical theatre productions in the West End and on tour, on Cruise Ships and in The Royal Ballet Company and ballet companies across the world. Additionally Angela has taught under-privileged children, who did not want to do anything with their life, to dance and be proud of their achievements. She also teaches senior citizens to help them stay young and mobile.
This is the first Melvin Jones Fellowship we have awarded outside the Lions Club and only our 6th in the 54 years since we formed in 1963. The other five recipients are;
Charter member Lion Wilf Wise (click here to read his story)
Retired member Lion Les Nayler
Retired member Lion Derek Low
Retired Member Lion Bill Thompson
Current member Lion Bob Thompson
---
People become Lions for many and varied reasons. For some it is the wish to put something back in to their community, for others it's the desire to make a difference. Whatever your motivation for wanting to join Lions we would love to hear from you. There is no minimum time commitment required from members, but we all try our best to work our commitment to Lions around the demands of our family and work lives.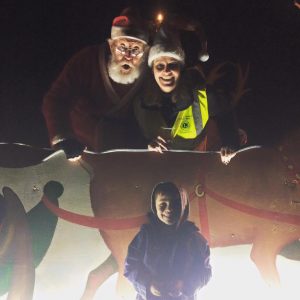 The events we run are many and varied. Our key fund raisers are the annual golf event at Sandburn and our Santa's Sleigh which tours Malton, Norton and the surrounding villages during December. In addition our summer lunch has traditionally raised money for a nominated charity – for the last two years this has been the Yorkshire Air Ambulance.
We deliver Fish and Chips at a subsidised price to people with serious mobility issues between October and April each year. We take Ryedale Special Families on the North Yorkshire Moors Railway in October, travelling to Whitby and providing picnic boxes, ice cream and entertainment in our private carriage during the journey. We take up to 200 senior citizens by coach each year to The Milton Rooms where we feed them and entertain them with bingo and music hall style entertainment. And we consider individual requests for assistance based on their merits – our resources are limited so we can only support some of those who are referred to us.
But it isn't always about giving. When Malton and Norton was hit by severe floods in 2000 we received donations from Lions Clubs around the UK and from Lions Internationally – the money going in to the appeal fund managed by the two towns to benefit those worst affected.
We meet at Harrison's Bar and Grill, 11 Market Place, Malton, YO17 7LP on the 4th Thursday of every month except June and December. Harrison's is a popular traditional pub in Malton with modern twists, that serves a good choice of home-made British dishes.
If you would like to know more about becoming a member
please click here and send us an email or speak to any Lion
 *
---
 
Lions Clubs International Foundation (LCIF) mission:
"To support the efforts of Lions clubs and partners in serving communities locally and globally, giving hope and impacting lives through humanitarian service projects and grants."
Lions around the world are united by a great spirit of giving and dedication to helping others. As the official charitable organization of Lions Clubs International, a leading humanitarian organization, Lions Clubs International Foundation (LCIF) supports Lions' compassionate works by providing grant funding for their local and global humanitarian efforts.
We help Lions serve
LCIF helps Lions improve peoples' lives around the world, from combating vision problems to responding to major catastrophes to providing valuable life skills to youth. Because LCIF helps Lions carry out large-scale projects through our grant programs, Lions increase their impact in their local and global communities and serve even more people in need around the world.
Our funds come from individuals
Donations from 1.4+ million Lions in 210 countries and geographic areas provide the vast majority of the revenue received by LCIF, making the Foundation a leading humanitarian organization. Lions know their donations matter and that funds entrusted to LCIF will support initiatives that impact communities and change lives.
We form lasting and successful partnerships
LCIF leverages the donations we receive through effective partnerships with other foundations, corporations and governments on the local, national and international level. We are proud that LCIF was named the #1 non-governmental organization worldwide with which to partner, according to a 2007 Financial Times independent survey.
We have key areas of service
To support Lions' mission of serving communities and meeting humanitarian needs, LCIF provides grants in these focus areas:
We make an impact
LCIF and Lions reach millions of people and accomplish visible results. Some of our accomplishments include:
Preventing serious vision loss for more than 30 million people
Providing over 153.3 million treatments for river blindness
Engaging more than 13 million students and 600,000 educators in 90 countries in the youth development program Lions Quest
Building or expanding 615 eye hospitals/clinics/wards
Conducting more than 19 million vision screenings for children through Sight for Kids
Providing vision screening for more than 350,000 Special Olympics athletes from 85 countries through Opening Eyes
Our impact last year
In fiscal year 2014-2015, we had a great impact in lives around the world through 530 grants totaling more than US$43 million. Some of our accomplishments included: