A warm welcome from the Lions
We are proud to have served our local community since 1963. Lions meet the needs of local communities around the world. Our 1.35 million members who perform community service in 209 countries and geographic areas are different in many ways, but share a core belief – COMMUNITY IS WHAT WE MAKE IT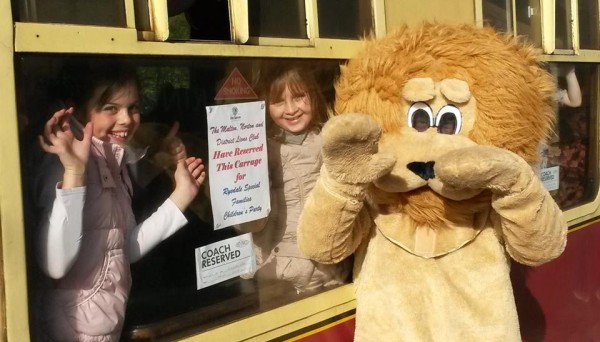 Our 52nd President is Nick Simpson who with his wife Sandra has lived in Thorpe Bassett since the early 1980s. Building our membership is a key objective for Nick during his year at the helm. Our August special new members event at Scampston Hall was a great opportunity to find out what being a member means and was enthusiastically received by those who attended.
Club members are all volunteers giving our time to run events that raise money to help those less fortunate than ourselves whilst enjoying fun and fellowship. Absolutely every penny we raise helps numerous good causes – our administration costs are covered from the modest subscriptions our members pay.
People become Lions for many and varied reasons. For some it is the wish to put something back in to their community, for others it's the desire to make a difference. Whatever your motivation for wanting to join Lions we would love to hear from you. There is no minimum time commitment required from members, but we all try our best to work our commitment to Lions around the demands of our family and work lives.
On Tuesday 25th November, Malton, Norton and District Lions Vice President Mark Harrison presented two members of 1st Malton Girl Guides with Gold Awards in the Lions Young Leaders in Service Scheme. Jessica Andrews, aged 15, and  Kayla Cleworth, aged 12 both completed over 100 hours of voluntary work in the calendar to September 2014. Click here to find out more.
The events we run are many and varied. Our key fund raisers are the annual golf event at Sandburn and our Santa's Sleigh which tours Malton, Norton and the surrounding villages during December. In addition our summer lunch has traditionally raised money for a nominated charity – for the last two years this has been the Yorkshire Air Ambulance.
We use the money to fund the delivery of Fish and Chips at a subsidised price to people with serious mobility issues between October and April each year. We take Ryedale Special Families on the North Yorkshire Moors Railway in October, travelling to Whitby and providing picnic boxes, ice cream and entertainment in our private carriage during the journey. We take up to 200 senior citizens by coach each year to The Milton Rooms where we feed them and entertain them with bingo and music hall style entertainment. And we consider individual requests for assistance based on their merits – our resources are limited so we can only support some of those who are referred to us.
But it isn't always about giving. When Malton and Norton was hit by severe floods in 2000 we received donations from Lions Clubs around the UK and from Lions Internationally – the money going in to the appeal fund managed by the two towns to benefit those worst affected.
The weather throws everything at us when we take Santa out during December, sleet, snow, sheet ice – you name it and we've experienced it over the years. But it's great seeing the expression on the childrens' faces and there is always the hope that the next door we knock on there will be mince pies and a small tipple waiting for us!!
Delivering fish and chips between October and April to the house-bound of Malton, Norton and the villages can also be exciting at times. In 1989, on an extreme winter's day, one of our members got 50 portions of fish and chips delivered when even the snow ploughs had ground to a halt. (Click here to read more).
Our Centennial Challenge
Toronto, Canada, July 8, 2014 – Lions Clubs International President Joe Preston announced a new global initiative to serve 100 million people by 2017 at the association's 97th annual International Convention held in Toronto. The Centennial Service Challenge is a humanitarian initiative that brings Lions clubs around the world together in service to celebrate the association's 100th anniversary in 2017.
"This is a special time for Lions Clubs International and our members," said International President Preston. "For nearly 100 years, Lions clubs have served their communities and touched the lives of millions of people. The Centennial Service Challenge is an opportunity for Lions to celebrate our 100th anniversary by doing what we do best – serving others."
Over the next three and a half years, Lions clubs will work to achieve the goal of serving at least 100 million people by participating in the association's Global Service Action Campaigns, which support youth activities, vision programs, hunger initiatives, and environmental projects around the world.
"Lions clubs are known for their efforts to save sight, but we do so much more," said International President Preston. "The Centennial Service Challenge highlights the important humanitarian work we do and our impact in communities around the world. It's an honor to lead such dedicated men and women who are working to make their communities stronger."
Lions Clubs International is the largest service club organization in the world. Its 1.35 million members in more than 46,000 clubs are serving communities in more than 200 countries and geographical areas around the globe. Since 1917, Lions clubs have aided the blind and visually impaired, championed youth initiatives and strengthened local communities through hands-on service and humanitarian projects.
Click here for more information about the Centennial Service Challenge.