As a group of almost 40 Lions, we have fun supporting our local community and organising a range of events to raise money for good causes, locally, nationally and internationally
We are proud to have worked across Malton, Norton and District since 1963. Lions meet the needs of local communities around the world. Our 1.4 million members in 46,000 clubs who perform community service in 210 countries and geographic areas are different in many ways, but share a core belief
COMMUNITY IS WHAT WE MAKE IT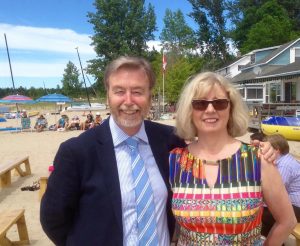 Our 56th President – Lion Steve Sidaway is a graduate from Sheffield University and started his career as a teacher of Geography at Norton School. He then changed direction for a career in academic publishing working in Chichester on the South Coast, Maidenhead, London, Cambridge and finally Suffolk before moving back to North Yorkshire 7 years ago. It was an exciting time to be in Publishing platforms changing from books to online resources and now apps for mobile devices. Being in the right place at the right time provided career development that included extensive travel to the USA, Australia and the Far East. Steve and Anne are now very happy to be back in Ryedale and contributing to the community  
Since joining Lions in 2014 Steve has become involved in many Club events including developing and supporting Youth projects with local schools and related organisations
Steve's programme for the year that ends in June 2019 includes an emphasis on providing task teams that engage with community projects, working with more partners including innovative retailers, new companies, and new charity partners. There will be plenty of entertainment opportunities for Lions and the community including an innovative Horse Race Night, Halloween Party, Beaujolais Noveau wine tasting, Burns Night, Quiz Night as well as our usual parties. We want to continue our "Malton and Norton Lions Community Fund" which in Mike's year provided grants of £500 to 9 local organisations to improve lives in our community. 
---
Lions Community Fund Awards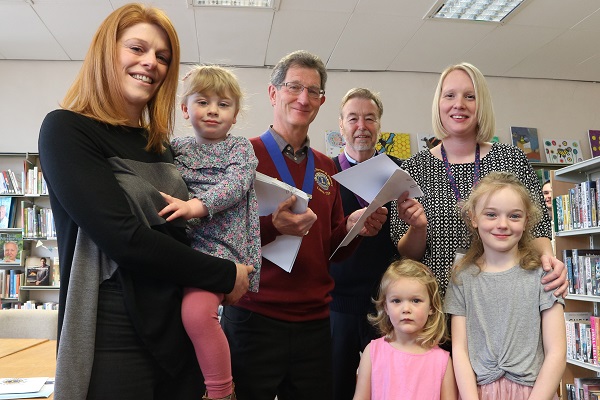 On Saturday 17th February 2018 Malton, Norton & District Lions Club awarded the first 10 grants from their Community Fund. Nine of the ten organisations turned up in person to receive their awards at Norton Library – the tenth award winner was on training to use the defibrillator the grant will part fund!
The organisations who received grants were:
Norton Hive Library and Community Hub
Wintringham Village Hall
1st Norton Guides
Swinton Playgroup
Musical Memories CIC
Ryedale YMCA
The Milton Rooms
Ryedale Carers Support
Settrington Village Hall Trust
Kirkham Henry Performing Arts CIC
The independent judges who consider the applications look for projects that have the potential to benefit local groups working with any age group, charities and organisations promoting or supporting better health or the environment in which we live. This could involve the purchase of equipment, maintenance of local services or assistance to individuals. The judges look for innovative ideas, particularly those benefiting the wider community in the longer term.
The Community Fund is in addition to Lions ongoing support for local causes that have in the past included the Yorkshire Air Ambulance, Next Steps, Ryedale Special Families, Ryedale Foodbank and Marie Curie.
A further round of Lions Community Fund Awards is planned for 2018/19 – keep an eye open for details.
---
Why do people join Lions? – For some it is the wish to put something back in to their community, for others it's the desire to make a difference. Whatever your motivation for wanting to join Lions we would love to hear from you. There is no minimum time commitment required from members, but we all try our best to work our commitment to Lions around the demands of our family and work lives.
The events we run are many and varied. Our key fund raisers are the annual golf event at Sandburn, the horse racing night and our Santa's Sleigh which tours Malton, Norton and the surrounding villages during December. In addition our summer lunch has traditionally raised money for a nominated charity – for the last two years this has been the Yorkshire Air Ambulance.
We deliver Fish and Chips at a subsidised price to people with serious mobility issues between October and April each year. We take Ryedale Special Families on the North Yorkshire Moors Railway in October, travelling to Whitby and providing picnic boxes, ice cream and entertainment in our private carriage during the journey. We take up to 200 senior citizens by coach each year to The Milton Rooms where we feed them and entertain them with bingo and music hall style entertainment. And we consider individual requests for assistance based on their merits – our resources are limited so we can only support some of those who are referred to us.
But it isn't always about giving. When Malton and Norton was hit by severe floods in 2000 we received donations from Lions Clubs around the UK and from Lions Internationally – the money going in to the appeal fund managed by the two towns to benefit those worst affected.
We meet at Harrison's Bar and Grill, 11 Market Place, Malton, YO17 7LP on the 4th Thursday of every month except June and December. Harrison's is a popular traditional pub in Malton with modern twists, that serves a good choice of home-made British dishes.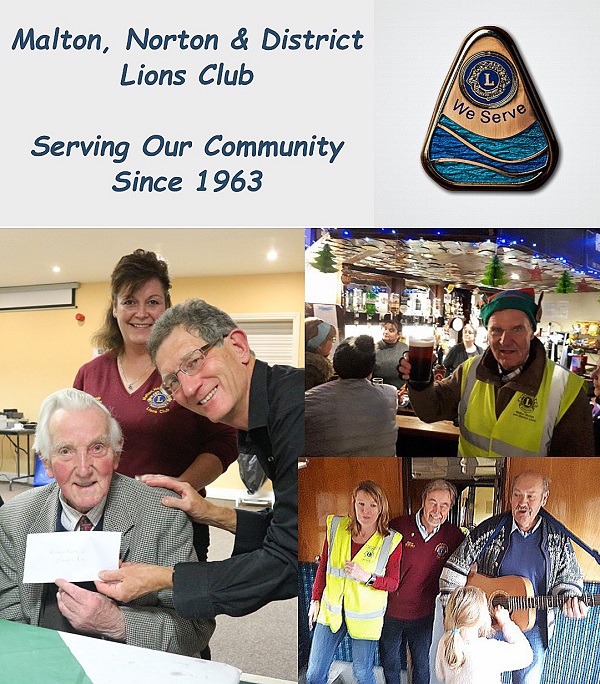 If you would like to know more about becoming a member
please click here and send us an email or speak to any Lion
 *
---
 
Lions Clubs International Foundation (LCIF) recently surpassed the US$1 billion milestone in grants awarded for global humanitarian service.
Since its founding in 1968, LCIF has strived to sustain Lions' humanitarian service goals throughout the world, awarding more than US$1 billion in the four focus areas of sight, youth, disaster relief and humanitarian efforts.
In 1972, what seemed like routine flood warnings to the community of Rapid City, South Dakota, USA, soon turned into ravaging floods that took the lives of more than 200 people and left more than 5,000 homeless. LCIF awarded its first grant to help the community of Rapid City rebuild, and Lions quickly got to work providing relief supplies in the wake of this catastrophic event. LCIF's legacy was born: providing local Lions with the assistance they need to improve the lives of people within their communities.
In addition to disaster relief, LCIF is dedicated to a range of humanitarian service projects, and continues to develop and expand programs that meet emerging needs worldwide.
"In our nearly 50 year history, LCIF has enabled Lions in communities around the world to make a significant difference in the lives of millions of people," says Dr. Jitsuhiro Yamada, 2016-2017 Chairperson of LCIF. "We are proud of our accomplishments. The US$1 billion milestone in grants awarded is something of which all Lions can be proud."
LCIF is the charitable arm of Lions Clubs International, supporting the compassionate works of Lions around the world. Find out more by going to the LCIF website – https://lionsclubs.org/en/discover-our-foundation/mission