Malton Lion Wins Camel Race
Malton, Norton & District Lions Club are well known for their support of The Festival of Racing which showcases the racing industry in the two towns, but on 17th August Lion Brian Abbott stretched the link to racing to its limits when he took part in a Camel Race at the famous Beverley Race Course to raise money for Save the Children – and WON!
Hot on the heels of the previous Wednesday's glamorous Ladies' Day, the hilarious Reckitt Benckiser Save the Children Charity Camel Derby was the curtain-raiser to Thursday afternoon's horse racing. Eight intrepid volunteers including Lion Brian, an Equine Vet, lined up to race camels in two heats and a final at the Westwood track.
One of the jockeys notes that
"The camels are prone to bucking, bronking and changing direction when they feel like it so the spectators are in for a treat. It's a very unusual sight to see camels running up the Westwood. We're used to racing unusual things, we've had donkey and dog races, but the camels really are the most outlandish thing. It's the way the camels move, it's totally bizarre. They can be a bit lazier than the horses, they buck a bit so it could be a bumpy ride."
The race was over a furlong for a bucket of feed at the finish. Lion Brian's steed made a steady start but enthused by the sight of the feed at the finish line came from behind under Lion Brian's tutored eye and vast racing experience to take it by a length. And in winning Lion Brian also raised over £3,000 for Save The Children.
The history of thoroughbred Horse Racing in Norton, Malton and the surrounding area dates back to the 1600s. Langton Wold Racecourse meetings are recorded from before 1692 and by the time of its loss to enclosure and the plough in 1862, Langton Wold had come to be regarded as one of the finest courses in England. Trainer John Scott dominated the sport between 1832 and 1862 winning nearly ever classic! His stables were at Whitewall. When William L'Annson's Blink Bonnie won the Epsom Derby in 1857 "Malton Church bells rang… and the pubs stayed open all night".
Today, the history of horse training continues with both Langton Wold and Highfield being used as gallops for the racing fraternity in the Norton and Malton area. There are currently more than 20 trainers in the area.
Malton Lions will be out in force for this year's Festival of Racing on 17th September – please come along, say hello to the Lions and have a great day out. Click here for more information and to find out how to win tickets.
(Pictures from Beverley Race Course's Facebook page)

A Busy Year Ahead With New President Lion Mike
At the end of a remarkable year which saw Malton, Norton and District Lions Club collect more money than ever before to benefit good causes both locally and further afield, Lion Ian Dewhurst handed over the Presidency to Lion Mike Lynch at The Old Lodge in Malton on Thursday 29th June.
Following an excellent meal outgoing President Ian thanked Lions, their partners and the many "Friends of Malton Lions" who collectively assist with a multitude of fund raising events. "The teamwork that is demonstrated at so many events is what makes our Club as strong as it is" said Ian. During the year we have also seen some new members join us and one or two long serving members leave. Our Club has received five "Silver Centennial Awards" for individual Lions who have sponsored new members. Two were present at the Handover Dinner to receive their awards from Ian – Lions Mike Lynch and Peter Smurthwaite.
Sadly the Handover Dinner marked the end of Lion Bill Thompson's membership which has stretched to over 40 years including his time as President in 1991/92 – which was memorable for its packed programme of events. But Lion Bill has also worked tirelessly in so many other ways, for many years working to deliver the Lions Boxing Tournament which in its time was our biggest fundraiser, organising the Golf Event at Sandburn for many years and leading in all aspects of membership recruitment. In recognition of all his achievements in Lions the Club was delighted to award him a Melvin Jones Fellowship (named after the founder of Lions in 1917). Lion Bill has decided to retire as he approaches his 80th birthday but we all hope to see him and Marty at Lions' Events in the future.
Outgoing President Ian handed the Chain of Office to our new President Lion Mike Lynch. Mike introduced his programme of events which will guarantee the Lions remain as busy as ever. Amongst new initiatives Mike announced is the "Malton and Norton Lions Community Fund". This was first mooted a couple of years ago by Past President Lion Mark Harrison and will see Lions actively going out to seek individuals and organisations requiring financial assistance to improve lives in our community. It is planned to announce the scheme in the local press over the coming weeks.
An exciting year is in prospect for Lions as the organisation celebrates it's 100th anniversary and President Mike announced a large all day event at the Milton Rooms in October at which we intend to involve all age groups in the community in a combined 100th anniversary of Lions worldwide and 54th birthday party for Malton, Norton and District Lions Club. More news on this event shortly here on the website, on Facebook and Twitter, in the local press and on local radio.

Lions Deliver Malton Old Folk's Party
Under the professional leadership of Lion Yvonne Daykin the Malton Old Folks Party went ahead on Friday evening 3rd February 2017 at the Rugby Club in Old Malton. Working closely with Malton Rotarians, together we collected all those who needed a lift whilst some arrived under their own steam. On arrival drinks were on hand after which a dinner of turkey with all the trimmings and a strawberry cheesecake sweet were served by the catering staff ably assisted by the Lions.
The Mayor of Malton, Councillor Paul Andrews recalled how, for many years, Councillor Frank Wiggle and Jan Anderson, wife of Lion Malcolm and Jan's mother before her had arranged this annual event. Sadly towards the end of last year Councillor Wiggle died and before that happened Jan had asked if the Lions would take over the organisation for 2017.
We were honoured by the presence of celebrity bingo caller Eamonn – fresh from his appearance on the Chris Evans breakfast show. Earlier in the day Eamonn had the honour of driving the first vehicle – a brand new Yorkshire Coastliner double deck bus – across the newly opened Tadcaster Bridge. He had also been on Look North and was hailed as our local celebrity before getting down to the job in hand!
Three cards of bingo were played for a line, two lines and a full house and there was a raffle with over 50 prizes almost all of which had been generously donated for the event.
After the bingo two of the leads from the new Beauty and the Beast show (which Malton Lions have agreed to sponsor) entertained our guests. This will be the first production from Ryedale Youth Theatre since they were presented with the Queen's Award for Voluntary Service. They were followed by David Ackroyd and Tom Todd singing songs from Ivor Novello and Gracie Fields among others. The evening was rounded off by everyone joining in a rousing chorus of six old time favourites, before being taken home by Lions and Rotarians working together. A great evening and as one Lion said thoughtfully – "I wonder what songs we'll be singing in 30 years time when the Lions are serving us!"
Thanks to Malton Town Council, Simpson Trust and Malton Rotarians for their sponsorship.

Malton Lions Celebrate Burns Night
On Saturday 28th January 38 Lions, guests and partners – many with very tenuous links to a Scottish heritage – celebrated Burns Night with a traditional Burns Supper at The Cedarbarn just outside Pickering. Lions Nick Simpson, Brian Abbot and James Lindenberg arranged a great night with a very traditional format. A major challenge had been the withdrawal of the piper we'd booked only a few days before the event, but with his usual resourcefulness Lion Nick beat the odds and secured the services of Piper Martin from the Bridlington Pipe Band who did us proud.
The staff at Cedarbarn served up excellent food with a traditional menu of Cock a LeekieSoup, Haggis, Tatties & Neap's + 'Nippie sweetie' followed by Cranachan.
Martin piped in the Haggis with traditional bagpipes and the beastie was duly addressed by our President Lion Ian Dewhurst. During the meal Piper Martin kept us entertained using a smaller set of pipes and the evening was rounded off with the toast to the lassies from Lion Nick and the response from Margaret Lukey.
Thanks to Nick, James and Brian for an evening that was enjoyed by us all.
Thank you for helping us raise more than ever before from Santa's Sleigh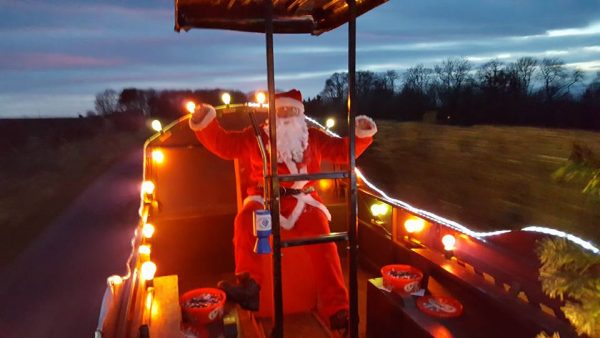 The 21st anniversary of Santa's partnership with Malton, Norton & District Lions Club has been truly remarkable in many ways. As our local community grows, this year we accompanied Santa on his rounds on no fewer than sixteen December evenings plus at the switch on of the Christmas Lights in both Norton and Malton. And for the first time we also took Santa along to The Whole Hogg Farm Shop where he had his own grotto on the three Saturdays leading up to Christmas.
Most evenings when Santa was out and about there was incredible activity on Facebook and Twitter and many people Santa met posted their pictures.
Most amazing of all in our 21st anniversary year for the Santa's Sleigh we have also collected a record amount of money for all the good causes we support locally, nationally and internationally. If you scroll down the column to the right you'll see examples of how we spend that money in "Recent Donations & Activities".
With just a little bit more money to come in we have collected £16,339.80!!
Here are a small selection of the many photos of Santa and his friends in 2016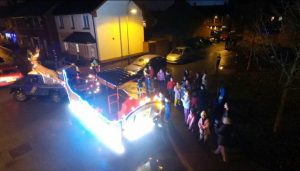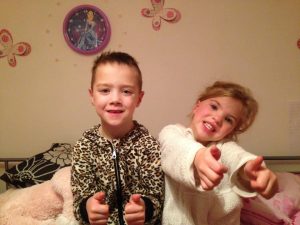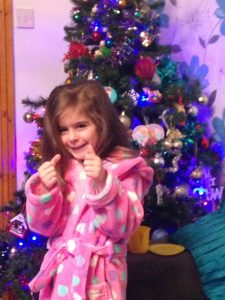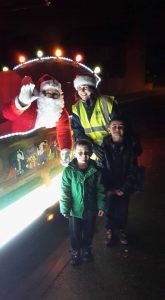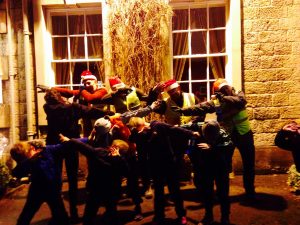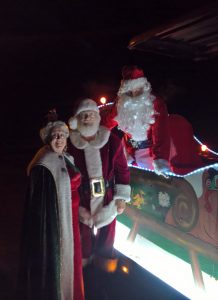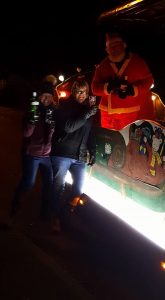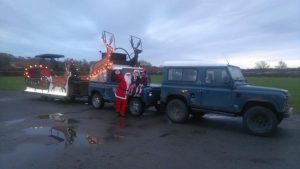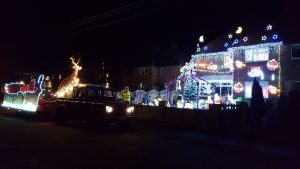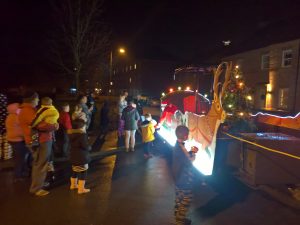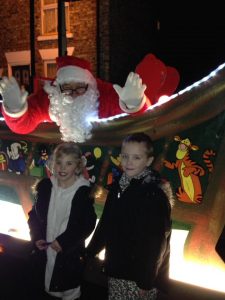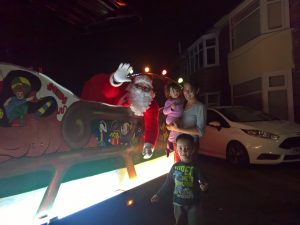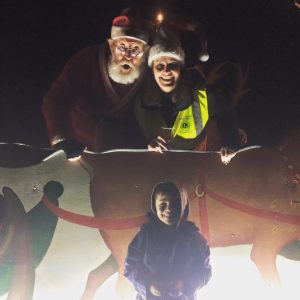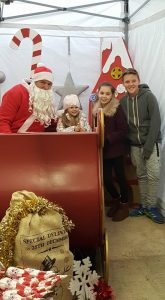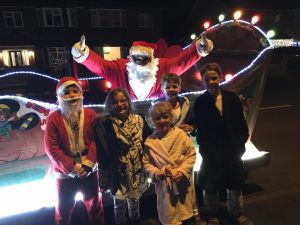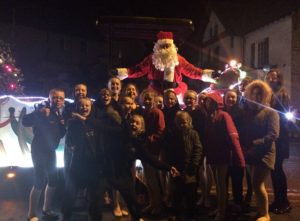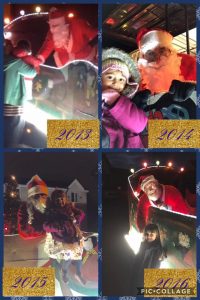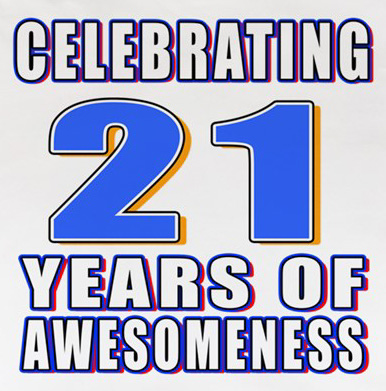 #MaltonLionsSanta
Celebrating 21 Years of Awesomeness
Santa's on his way to a street near you!
Check out the dates!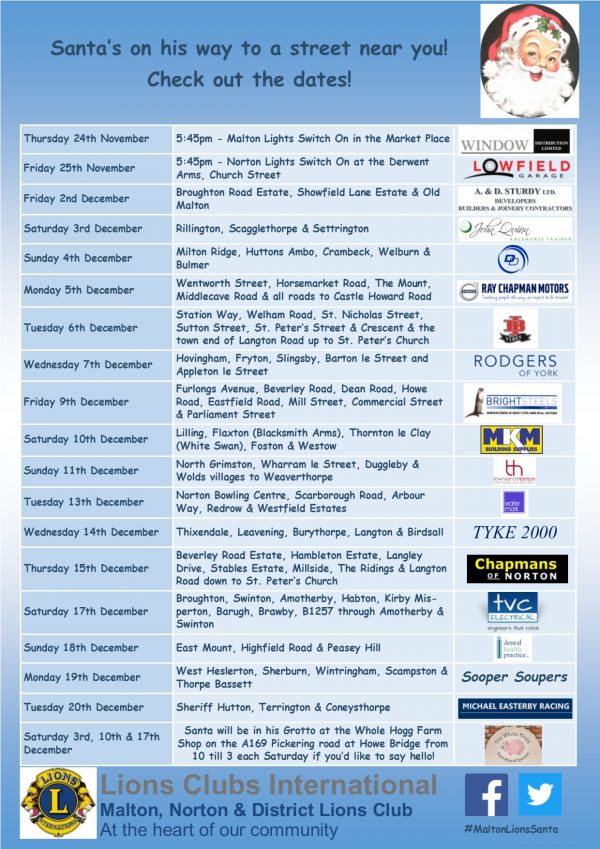 Lions host evening for our "seniors"
Each year Malton, Norton & District Lions Club run a social event for the more mature members of our community at The Milton Rooms. This year's event was arranged by Lion Anne Watson and her committee.
Two free buses were used to bring people from the villages whilst Lions provided transport for residents in the two towns. The format is tried and tested and always goes down well, starting with a round of free drinks for everyone to get them in the mood for three cards of bingo and prizes for a line, two lines and a full house on each card. Lion Peter Grice is our resident caller and a silence descends once the bingo is underway.
Once the bingo is over we serve food prepared by Lions and their partners – two large plates of savouries and two of sweets to each table. Any leftovers get devoured by hungry Lions or plated up, wrapped in cling film and offered as "doggie bags" to the audience as they leave.
The food, accompanied by plentiful supplies of tea and coffee, is followed by 45 minutes of entertainment provided by the talented students from the Kirkham Henry Performing Arts Centre. These young people are coached and directed by Angela Kirkham-Raine who holds the highest award Lions can make – a Melvin Jones Fellowship, named after our founder in 1917. This part of the evening is always hugely popular with our audience who were very generous with their applause at the end of the evening.
As Lions, we believe strongly that "Community is what we make it" and in our rural community where many villages have no regular bus services, Meet The Lions is one way of bringing people together.
(All pictures by Lion Robert Wainwright)
New member & busy July meeting
Our July meeting was a particularly busy one when we welcomed a new member, received a visitor from Hong Kong and amongst many others, made a a number of donation to a vraiety of good causes, both local and international. All the details are listed below.
– We welcomed new member, Russ Grimshaw. We hope you enjoy your time in Lions Russ!
– Welcomed Andy Shiu from Hong Kong who is going to the Lions Youth Camp in Dumfries in August and staying with Lions Brian Abbott and Mark Harrison beforehand
– We said goodbye to long standing member Jim Everett, but hope to see him and Suzanne at some of the events we run in the future
– We agreed conditionally a substantial donation towards the costs of the pumps for the Norton flood defences
– We made a contribution towards the cost of a defibrillator to be placed in the centre of Leavening for public use
– We discussed ways of increasing awareness of prostate cancer
– We agreed to contribute towards the cost of a school trip from Welburn Hall
– We bought bunk beds for a family struggling because of a terminal illness in the family
– We beat Filey Lions at Quoits to retain the Zone Cup!
– Had an enjoyable Handover Dinner at The Old Lodge Hotel when our new President Lion Ian Dewhurst took over from Lion Mark Harrison
– Manned the gates at the Malton Show and received a £450 donation for our charity account
– Enjoyed a wonderful Summer Lunch in East Lutton and raised £1,000 for the Yorkshire Air Ambulance
– Some of us marshalled the Ryedale Special Families Yorkshire Wolds Cycle Challenge which raised a significant sum of money for that charity
– Made a donation through the Lions Clubs International Foundation (LCIF) to three charities set up by Norwegian Lions in the Bekaa Valley in Lebanon to ease the plight of Syrian refugees
– Discussed details of our "Meet The Lions" event when we entertain senior citizens from the towns and villages at The Milton Rooms. This year's event takes place on 8th September – if you know anyone who would like to come along please tell any Lion
All change as Lions welcome new President
At the end of a successful year under outgoing President Lion Mark Harrison, Malton, Norton & District Lions Club welcomed new President Lion Ian Dewhurst and 1st Vice President Lion Mike Lynch at a formal dinner at The Old Lodge Hotel in Malton on the last day of June.
Under Lion Mark the Club has seen record fund raising results in the year and a relaxed leadership style. Due to work pressures Mark could not be at the Handover Dinner so it was left to his predecessor Lion Nick Simpson to reflect on the year just gone and lament the fact that Mark had "sat on one or two prospective members until Nick left office!" During the year we have welcomed Lions Brian Abbott, Yvonne Daykin, Mark Poole, Ed Sturmheit and Christopher Turner. In recognition of his part in sponsoring new members, Lion Brian Maud was awarded a membership key by new President Ian.
We also said goodbye to our longest serving Lion at the Handover Dinner. Lion Derek Low has been a member of the Malton Lions for 47 years having joined just 5 years after the Club was formed in 1964. He was presented with a bottle of single malt whisky and one of crusted port paid for by the members. In his short speech of thanks he recalled how in those days not only was the prospective new member vetted before joining but also their wife. He thanked Joyce for passing scrutiny all those years ago enabling them to have many happy years serving the community and enjoying our social events. President Ian pointed out that Lion Derek was unique – in many ways! – but not least because he is the only person to hold all three senior offices in the Club, President, Secretary and Treasurer. With his 80th birthday looming Derek has decided now is the time to take a back seat and become a "Friend of Malton Lions" – but both he and Joyce have promised to join us at events in the future when they will be most welcome.
President Ian introduced his programme for the year which is a mix of traditional fund raisers, community support activities and social events but includes a couple of exciting new ventures which will be unveiled in the coming months. Ian is also taking forward an idea developed by Past President Mark to introduce a Malton & Norton Lions Community Fund to encourage others to enter into the spirit of service to the community and allow deserving local causes to be highlighted for possible support more quickly than at present.
So all in all an active and exciting year ahead – welcome Ian and your new team.
'appy with their app and Lions support
As part of their Centennial Challenge Lions from around the world have a focus on supporting sight, hunger, environment and youth projects. With a focus on youth, Malton & Norton Lions are working with over 20 students from Malton School who are taking part in a Camps International expedition to Peru.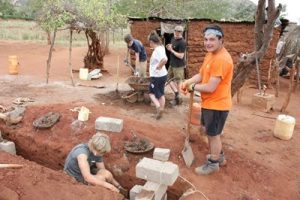 There they will spend time in different areas of the high Andes in Southern Peru helping to improve the standard of living for rural communities. They'll take part in ongoing conservation activities to protect valuable and sensitive ecological areas and have the opportunity to learn some Spanish or improve on their existing knowledge. Lion Dave Sawdon who has been on a similar expedition to Peru knows that it is by no means a holiday – working at altitude is exhausting. In his experience the villagers who benefit from the work put in by the students are truly appreciative.
Each student has to raise significant funds to take part in the Peru expedition and the Lions are assisting in two ways. Firstly we are making a contribution to the cost of the coach taking the team to and from London Heathrow and secondly each student is being given the myshowcase.me app and training from Lion Steve Sidaway in how to get the most out of it.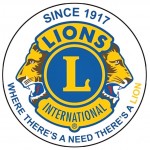 Myshowcase.me allows the user to gather all their digital accomplishments and experiences into one place to produce professional looking print and on-line showcases, for work, study and sharing between friends. And their myshowcase.me account will be able to be updated when they are out and about, capturing photos, videos and reflections from their mobile devices. Ideal for capturing evidence while they are on the move.
On their return some of the expedition members will be asked to come to a Lions meeting and give a presentation about the work they have undertaken, illustrated using the digital content they have created using the myshowcase.me app.
It promises to be an exciting and hard-working summer for these intrepid students!